realme 10000 mAh Power Bank (18 W, Fast Charging) (Grey, Lithium Polymer)
In Stock
Capacity: 10000 mAh
Lithium Polymer Battery | Micro, Type-C Connector
Power Source: AC Adapter
Charging Cable Included
Description
Don't panic and rush to find a plug point if you're low on charge. This 10,000 mAh powerbank from Realme will have your back with its premium features. It features a Type-C port with simultaneous fast-charging, Power Delivery mode to help you charge your laptop, an intelligent low-power mode which you can use to charge smart wearables, and lots more.
18 W Two-way Fast Charge
Thanks to the Type-C port in this powerbank, you can fast-charge your phone while simultaneously fast-charging your powerbank.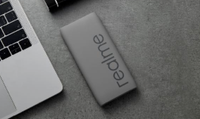 Power Delivery Compatible
The Power Delivery feature in this Realme powerbank lets you charge your laptops. The intelligent low-power mode mode helps you charge wearable devices like smartwatches.
Dual Output
This powerbank has been designed in such a way that both the ports – USB type-A and USB type-C can provide you with the power to charge two devices at the same time.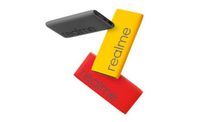 High-density Battery
Powered by a 10,000 mAh high-density lithium polymer battery, this powerbank can retain up to 100% of its full capacity even after 500 recharge cycles are completed.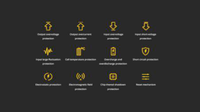 Security
You can use this Realme powerbank without worrying about safety as it is equipped with 12 layers of protection.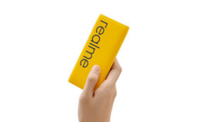 General
| | |
| --- | --- |
| Sales Package | Power Bank, USB-C Cable, Quick Guide Book |
| Model Name | |
| Suitable Device | |
| Number of Output Ports | |
| Charging Cable Included | |
| Power Supply | |
| Other Features | Intelligent Low Power Mode, 18W Two-way Fast Charge, 12 Layers of Circuit Protection, Skin-friendly Material, 3D Curved Body |
| Width | |
| Height | |
| Depth | |
Warranty
| | |
| --- | --- |
| Warranty Summary | |
| Warranty Service Type | |
| Covered in Warranty | |
| Not Covered in Warranty | |
| Domestic Warranty | |
Quick Comparison
Settings
realme 10000 mAh Power Bank (18 W, Fast Charging) (Grey, Lithium Polymer)

remove

Fire-Boltt Ninja Call 2 Plus with 1.83-inch display Bluetooth Calling with 27 Sports Modes Smartwatch (Black Strap, Free Size)

remove

Mi 3i 10000 mAh Power Bank (Fast Charging, 18W) (Black, Lithium Polymer)

remove

Realme C55 (Rainy Night, 128 GB) (8 GB RAM)

remove

Realme C55 (Rainforest, 64 GB) (6 GB RAM)

remove

realme 10 Pro+ 5G (Nebula Blue, 128 GB) (6 GB RAM)

remove

Name
realme 10000 mAh Power Bank (18 W, Fast Charging) (Grey, Lithium Polymer)

remove

Fire-Boltt Ninja Call 2 Plus with 1.83-inch display Bluetooth Calling with 27 Sports Modes Smartwatch (Black Strap, Free Size)

remove

Mi 3i 10000 mAh Power Bank (Fast Charging, 18W) (Black, Lithium Polymer)

remove

Realme C55 (Rainy Night, 128 GB) (8 GB RAM)

remove

Realme C55 (Rainforest, 64 GB) (6 GB RAM)

remove

realme 10 Pro+ 5G (Nebula Blue, 128 GB) (6 GB RAM)

remove

Image
SKU
Rating
Price
Stock

In Stock

In Stock

In Stock

In Stock

In Stock

In Stock

Availability
In Stock
In Stock
In Stock
In Stock
In Stock
In Stock
Add to cart
Description

Capacity: 10000 mAh
Lithium Polymer Battery | Micro, Type-C Connector
Power Source: AC Adapter
Charging Cable Included

1.83 inch Bluetooth Calling Full Touch Smartwatch with 240*284 px Resolution
Built In Mic and Speaker enables user to enjoy wireless calling experience
Stream & Listen To Favourite Songs Through The Watch with Built - In Speaker
360 Health Tracking - Featuring Real Time SpO2, Heart Rate Tracking, Sleep Monitoring

Port- Type C and micro usb
Cable- micro usb
Recharging time- 4 hours (with 18 W charger and USB cable)
Weight: 251 g | Capacity: 10000 mAh
Lithium Polymer Battery | Type-C Connector

8 GB RAM | 128 GB ROM | Expandable Upto 1 TB
17.07 cm (6.72 inch) Full HD+ Display
64MP + 2MP | 8MP Front Camera
5000 mAh Battery
Helio G88 Processor

6 GB RAM | 64 GB ROM | Expandable Upto 1 TB
17.07 cm (6.72 inch) Full HD+ Display
64MP + 2MP | 8MP Front Camera
5000 mAh Battery
Helio G88 Processor

6 GB RAM | 128 GB ROM
17.02 cm (6.7 inch) Full HD+ Display
108MP + 8MP + 2MP | 16MP Front Camera
5000 mAh Battery
Mediatek Dimensity 1080 5G Processor

Content

Don't panic and rush to find a plug point if you're low on charge. This 10,000 mAh powerbank from Realme will have your back with its premium features. It features a Type-C port with simultaneous fast-charging, Power Delivery mode to help you charge your laptop, an intelligent low-power mode which you can use to charge smart wearables, and lots more.

18 W Two-way Fast Charge

Thanks to the Type-C port in this powerbank, you can fast-charge your phone while simultaneously fast-charging your powerbank.

Power Delivery Compatible

The Power Delivery feature in this Realme powerbank lets you charge your laptops. The intelligent low-power mode mode helps you charge wearable devices like smartwatches.

Dual Output

This powerbank has been designed in such a way that both the ports - USB type-A and USB type-C can provide you with the power to charge two devices at the same time.

High-density Battery

Powered by a 10,000 mAh high-density lithium polymer battery, this powerbank can retain up to 100% of its full capacity even after 500 recharge cycles are completed.

Security

You can use this Realme powerbank without worrying about safety as it is equipped with 12 layers of protection.

Fire-Boltt Ninja Call 2 has the Industry's Largest Square Display of 1.83" Full Touch and HD TFT Screen. This watch is your ALL IN ONE companion with Spo2, HR, steps, calorie, sleep monitoring and counting features. Keep a close track and watch on the Blood Oxygen Levels (SpO2) as well as Continuous Heart Rate Tracking. This Fireboltt Ninja Call 2 is a show stopper and has 27 well known sports modes. This watch comes with stonger battery backup where you need not worry to charge!

Keep your devices well-charged at all time with this Mi power bank. While its dual USB input helps you charge two devices together, its smart power management lets you switch it to 2-hour low charging mode to charge low-power devices with ease.

Dual USB Output

Its improved design helps you charge two devices simultaneously.

Dual Input With Type-C

This power bank is easily chargeable via Type-C or micro USB port.

Two Way Fast Charging

It ensures fast charging of up to 18 W, so you can charge your devices or the power bank in a jiffy.

Powerful

Its thoughtful design with an aluminium alloy case not only makes it look stylish but also keeps it safe from collisions and impact.

Powerful

It is compatible with 9V/2A, 5V/2.1A and 12V/1.5 A charging, so you can use it to charge almost all types of devices with ease.

Smart Power Management

With its 2-hour low charging mode, you can charge low power devices, such as Mi wireless earphones or Mi band efficiently. The low charging mode can be activated by double pressing the power button.

12-Layer Circuit Protection

It features a 12-layer protective design that keeps your devices safe from overheating or other electrical hazards.

realme C55's Mini Capsule

The realme C55's Mini Capsule shows low battery warnings, the phone's charging status, and data use. Also, it displays your daily walking distance and step count, making your interaction with the phone seamless.

64 MP AI Camera

You can snap beautiful, high-quality pictures that catch every detail with astounding clarity thanks to the 64 MP AI camera in the C55. In addition, regardless of whether you're an expert, you can effortlessly capture pictures that are of a professional calibre.

Dazzling FHD+ Display

Get a superior visual experience with the 17.07 cm (6.72) 90 Hz FHD+ display that can keep you fascinated and delighted. Because of the 90 Hz refresh rate, navigating across web pages, social media, and other apps is exceptionally fluid and lag-free.

Powerful SUPERVOOC Charge

With a 33 W SUPEVOOC charge, enjoy blazing-fast charging that instantly charges up your smartphone. Also, a large 5000 mAh battery allows you to use the device for hours at a time without interruption when streaming music, streaming movies, or playing games, all without ever being concerned about the battery running out.

Sleek Design

This phone's sleek and sophisticated design, which measures just 7.89 mm thick, enhances your sense of style. A magnificent impact is also produced by the Sunshower Design when it is exposed to sunshine, illuminating every moment.

Dynamic RAM

Witness stupendous speed and flawless multitasking with up to 16 GB of dynamic RAM. 16 GB of dynamic RAM provides a fluid and reactive user experience, free of latency or glitches, whether you're watching high-definition video, playing graphics-intensive video games, or running numerous programmes simultaneously. Every day, at your fingertips, reap the benefits of a quick, effective, and pleasurable smartphone experience.

Mediatek Helio G88 Chipset

With the Mediatek Helio G88 processor, enjoy processing power that is blazingly quick and flawless in multitasking. This potent technology offers effective performance, fluid gameplay, and quicker app loading times, making your day smooth and productive.

realme C55's Mini Capsule

The realme C55's Mini Capsule shows low battery warnings, the phone's charging status, and data use. Also, it displays your daily walking distance and step count, making your interaction with the phone seamless.

64 MP AI Camera

You can snap beautiful, high-quality pictures that catch every detail with astounding clarity thanks to the 64 MP AI camera in the C55. In addition, regardless of whether you're an expert, you can effortlessly capture pictures that are of a professional calibre.

Dazzling FHD+ Display

Get a superior visual experience with the 17.07 cm (6.72) 90 Hz FHD+ display that can keep you fascinated and delighted. Because of the 90 Hz refresh rate, navigating across web pages, social media, and other apps is exceptionally fluid and lag-free.

Powerful SUPERVOOC Charge

With a 33 W SUPEVOOC charge, enjoy blazing-fast charging that instantly charges up your smartphone. Also, a large 5000 mAh battery allows you to use the device for hours at a time without interruption when streaming music, streaming movies, or playing games, all without ever being concerned about the battery running out.

Sleek Design

This phone's sleek and sophisticated design, which measures just 7.89 mm thick, enhances your sense of style. A magnificent impact is also produced by the Sunshower Design when it is exposed to sunshine, illuminating every moment.

Mediatek Helio G88 Chipset

With the Mediatek Helio G88 processor, enjoy processing power that is blazingly quick and flawless in multitasking. This potent technology offers effective performance, fluid gameplay, and quicker app loading times, making your day smooth and productive.

120 Hz Curved Vision Display

The Realme 10 Pro+ 5G makes a significant advance with its 17.01 cm (6.7) AMOLED curved display screen, which has 2160 Hz PWM Dimming, TUV Rheinland Low Blue Light Certificate, 1260 Hz Turbocharged Touch Sampling, and X-touch Anti-mistouch Algorithm.

108 MP ProLight Camera

The 108 MP ProLight Camera on the Realme 10 Pro+ 5G can help you be more creative. Thanks to incredible technology like HyperShot Imaging Architecture, which allows parallel processing of photographs, and Super Group Portrait mode, which gives each face in a portrait a different appearance, this smartphone gives you exceptional photographic and filmmaking abilities.

Dimensity 1080 5G Chipset

This smartphone takes the leap even further by offering you a Dimensity 1080 5G Processor, which is fully loaded with compatibility for all 5G bands. With its unmatched performance, AnTuTu score of 520,000, and extremely low battery consumption, the Realme 10 Pro+ 5G delivers a stupendous performance.

Hyperspace Design

With its striking 7.95 mm-thick, 175 g weight, the Realme 10 Pro+ 5G, which has been inspired by a hyperspace tunnel, provides a modern approach to design.

67 W SUPERVOOC Charge

The Realme 10 Pro+ 5G features up to 38 safety measures to ensure the safety of high-power charging, from the charger, data cable, phone charging interface, and charging circuit to the battery. This way, you can enjoy high-speed and secure charging with this device.

5000 mAh Massive Battery

You can let go of the battery worries since the Realme 10 Pro+ 5G has a sizable 5000 mAh battery that allows all-day gaming and binge-watching sessions. The battery can also support up to 30.7 hours of call time, 20.3 hours of streaming video, and a mind-blowing 38 hours of music playback.

Realme UI 4.0

Realme UI 4.0 support is available on the Realme 10 Pro+ 5G to provide you with a fantastic user experience. This edition's numerous benefits include accelerated performance, an augmented user experience, and seamless switching.

Dynamic RAM

With the large 8+8 GB Dynamic RAM configuration on Realme 10 Pro+ 5G, you can now access numerous files or programmes, play games, and move between apps without any lag. For an additional speed boost, you can add up to 8 GB of RAM using the DRE feature.

Specifications

General

| | |
| --- | --- |
| In The Box | Handset, Adapter, USB Cable, Important Info Booklet with Warranty Card, Quick Guide, Sim Card Tool, Screen Protect Film, Case |
| Model Number | |
| Model Name | |
| Color | |
| Browse Type | |
| SIM Type | |
| Hybrid Sim Slot | |
| Touchscreen | |
| OTG Compatible | |
| Sound Enhancements | Dirac Effect, MT6365 Audio Decoding Chip, Hi Res Certification |
| SAR Value | Head: 1.168 W/kg, Body: 0.544 W/kg |

Display Features

| | |
| --- | --- |
| Display Size | |
| Resolution | |
| Resolution Type | |
| GPU | |
| Display Type | |
| Display Colors | |
| Other Display Features | Refresh Rate: 60 Hz/90 Hz/120 Hz, Aspect Ratio: 20.1:9, Screen-to-Body Ratio: 93.65%, Screen Contrast: 5000000:1, Maximum Brightness: 500 nit, Color Saturation: DCI-P3 100%, Sunlight Screen Support, Oleophobic Coating |

Os & Processor Features

| | |
| --- | --- |
| Operating System | |
| Processor Type | Mediatek Dimensity 1080 5G |
| Processor Core | |
| Primary Clock Speed | |
| Secondary Clock Speed | |
| Operating Frequency | 2G GSM: 850/900/1800/1900 MHz, 3G WCDMA: B1/B2/B5/B6/B8/B19, 4G FDD-LTE: B1/B3/B5/B7/B8/B19/B28A, 4G TDD-LTE: B34/B38/B39/B40/B41 (2515 - 2675 MHz), 5G SA: n40/n41/n78/n1/n3/n5/n8/n28A, 5G NSA: n41/n77/n78 |

Memory & Storage Features

| | |
| --- | --- |
| Internal Storage | |
| RAM | |

Camera Features

| | |
| --- | --- |
| Primary Camera Available | |
| Primary Camera | |
| Primary Camera Features | Triple Camera Setup: 108 MP Main Camera (S5KHM6SX03, f/1.75 Aperture, FOV: 83.63 Degree, Focal Length: 23.6 mm, 6P Lens, 1/1.67 inch Sensor Size, Pixel Size: 0.64um, PDAF) + 8 MP Wide Camera (IMX355PQH5, f/2.2 Aperture, FOV: 112 Degree, Focal Length: 15.8 mm, 5P Lens, 1/4 inch Sensor Size, 1.12um Pixel Size, Fixed Focus) + 2 MP Macro Camera (GC02M1, f/2.4 Aperture, FOV: 88.8 Degree, Focal Length: 21.9 mm, 3P Lens, 1/5 inch Sensor Size, Pixel Size: 1.75um, 4cm Fixed Focus), Camera Feature: Photo, Beauty, Filter, AI Scene Recognition, Night, Professional, Panoramic View, Portrait, Street, 108M, Macro, Text Scanner, Starry, Tilt-Shift, Group Portrait, One Take, 20 Continous Shoots, Video Feature: Bokeh Flare Portrait, Video Bokeh, Nightscape Video, HDR Video, Ultra Steady Video, Slow Motion, Timelapse, Dual-View Video, Movie, Starry Timelapse, Tilt-Shift Timelapse, EIS |
| Secondary Camera Available | |
| Secondary Camera | |
| Secondary Camera Features | 16MP Camera Setup: (S5K3P9SP04, f/2.45 Aperture, FOV: 82.3 Degree, Focal Length: 24 mm, 1/3.1 inch Sensor Size, 1.0um Pixel Size, 5P Lens, Fixed Focus), CMOS, EIS, Camera Feature: Photo, Beauty, AI Scene Recognition, Filter, Night, Portrait, Panoramic View |
| Flash | |
| HD Recording | |
| Full HD Recording | |
| Video Recording | |
| Video Recording Resolution | Rear Camera: 4K (at 30 fps), 1080p (at 480 fps/120 fps/60 fps/30 fps), 720p (at 960 fps/240 fps/60 fps/30 fps) | Front Camera: 1080p (at 30 fps), 720p (at 30 fps) |
| Digital Zoom | |
| Frame Rate | 960 fps, 480 fps, 120 fps, 60 fps, 30 fps |
| Dual Camera Lens | |

Call Features

| | |
| --- | --- |
| Speaker Phone | |
| Call Records | |

Connectivity Features

| | |
| --- | --- |
| Network Type | |
| Supported Networks | 5G, 4G VoLTE, 4G LTE, WCDMA, GSM |
| Internet Connectivity | 5G, 4G, 3G, GPRS, EDGE, Wi-Fi |
| Pre-installed Browser | |
| Micro USB Version | |
| Bluetooth Support | |
| Bluetooth Version | |
| Wi-Fi Version | 802.11 a/b/g/n/ac/ax (2.4 GHz | 5 GHz) |
| Wi-Fi Hotspot | |
| NFC | |
| Infrared | |
| USB Connectivity | |
| Audio Jack | |
| Map Support | |
| GPS Support | |

Other Details

| | |
| --- | --- |
| Smartphone | |
| Touchscreen Type | |
| SIM Size | |
| User Interface | Realme UI 4.0 (Based on Android 13) |
| SMS | |
| Graphics PPI | |
| Sensors | Magnetic Induction Sensor, Light Sensor, Proximity Sensor, Gyrometer, Acceleration Sensor |
| Browser | |
| Ringtones Format | |
| Other Features | 360 Hz Touch Sampling Rate, COP Sealing Process, Oncell Touch Panel Technology, 10 Touch Points, Taking Photos Methods: Tap, Volume Button, Gesture, Dual RAM Channel, RAM Frequency: 4266 Mbps, UFS 2.2, Dual ROM Channel, 67W Maximum Charging Power, Charging Protocol & Power: SUPER Dart/VOOC, Reverse Charging, WiFi Antenna Technology: 2 x 2 MIMO, RF Antenna Technology: 4 x 4 MIMO, Phone Locked Functions: Face Unlock, Fingerprint Unlock, Password Unlock, Pattern Unlock, Google Smart Lock, Under Display Optical Fingerprint, Wet Fingerprint Unlock, Face Unlock Technology, File Encryption, Private Space, Private Apps, Private Protection, OTG Storage: 2 TB, Format: FAT32, EXFAT, NTFS, Dual Microphone, Dual Mic Noise Cancellation, Flashlight Mode, Vibrating Motor Type: X-Axis Linear Moto, Dual Speaker, Speaker Type: Super Linear, Supports L1 Level Widevine,Press to Answer Call, Wake-up Voice Assistant, Switch the Music, Headphone Monitor, Kids Space, Voice Wake-up, Off Screen Clock/AOD, Night Shiled, Step Tracker, Game Space, App Market, Theme Store, Clone Phone, Phone Manager, Google Lens, Data Backup, Files Compression and Decompression, World Time, Import and Export Contacts |
| GPS Type | GPS, GLONASS, BEIDOU, GALILEO, QZSS |

Multimedia Features

| | |
| --- | --- |
| Audio Formats | AAC, M4A, APE, FLAC, MP3, OGG, WAV, AMR, MID, WMA |
| Video Formats | MPEG2, H.263, MPEG4, H.264, H.265, VP8, VP9, VC1 |

Battery & Power Features

| | |
| --- | --- |
| Battery Capacity | |

Dimensions

| | |
| --- | --- |
| Width | |
| Height | |
| Depth | |
| Weight | |

Warranty

| | |
| --- | --- |
| Warranty Summary | 1 Year Manufacturer Warranty for Phone and 6 Months Warranty for In-Box Accessories |
| Domestic Warranty | |

Weight
Dimensions
N/A
N/A
N/A
N/A
N/A
N/A
Additional information