Mi 3i 10000 mAh Power Bank (Fast Charging, 18W) (Black, Lithium Polymer)
In Stock
Port- Type C and micro usb
Cable- micro usb
Recharging time- 4 hours (with 18 W charger and USB cable)
Weight: 251 g | Capacity: 10000 mAh
Lithium Polymer Battery | Type-C Connector
Description
Keep your devices well-charged at all time with this Mi power bank. While its dual USB input helps you charge two devices together, its smart power management lets you switch it to 2-hour low charging mode to charge low-power devices with ease.
Dual USB Output
Its improved design helps you charge two devices simultaneously.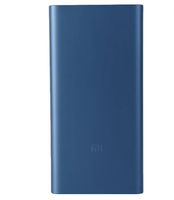 Dual Input With Type-C
This power bank is easily chargeable via Type-C or micro USB port.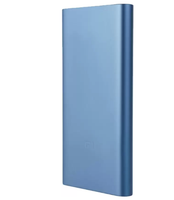 Two Way Fast Charging
It ensures fast charging of up to 18 W, so you can charge your devices or the power bank in a jiffy.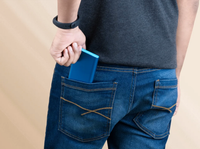 Powerful
Its thoughtful design with an aluminium alloy case not only makes it look stylish but also keeps it safe from collisions and impact.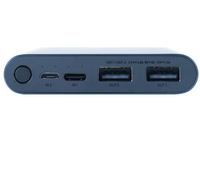 Powerful
It is compatible with 9V/2A, 5V/2.1A and 12V/1.5 A charging, so you can use it to charge almost all types of devices with ease.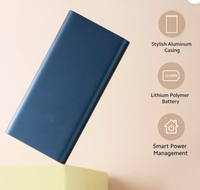 Smart Power Management
With its 2-hour low charging mode, you can charge low power devices, such as Mi wireless earphones or Mi band efficiently. The low charging mode can be activated by double pressing the power button.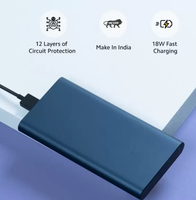 12-Layer Circuit Protection
It features a 12-layer protective design that keeps your devices safe from overheating or other electrical hazards.
General
| | |
| --- | --- |
| Sales Package | 1 Power Bank, 1 USB Cable and 1 User Manual |
| Model Name | |
| Suitable Device | |
| Number of Output Ports | |
| Charging Cable Included | |
| Power Supply | USB-C: 5 V/2.1 A, 9 V/2.1 A, 12 V/1.5 A, Micro-USB: 5 V/2.1 A, 9 V/2.1 A, 12 V/1.5 A |
| Output Power | Single Port USB-A: 5.1 V/2.4 A, 9 V/2 A, 12 V/1.5 A, Dual Port USB-A: 5.1 V/2.6 A |
| Other Features | 12 Layers of Circuit Protection, Two Way Fast Charge, Stylish Aluminum Casing, Smart Power Management |
| Width | |
| Height | |
| Depth | |
| Weight | |
Warranty
| | |
| --- | --- |
| Warranty Summary | |
| Warranty Service Type | |
| Covered in Warranty | |
| Not Covered in Warranty | Physical Damages, Wear and Tear |
| Domestic Warranty | |
Quick Comparison
Settings
Mi 3i 10000 mAh Power Bank (Fast Charging, 18W) (Black, Lithium Polymer)

remove

realme 10000 mAh Power Bank (18 W, Fast Charging) (Grey, Lithium Polymer)

remove

Fire-Boltt Ninja Call 2 Plus with 1.83-inch display Bluetooth Calling with 27 Sports Modes Smartwatch (Black Strap, Free Size)

remove

Name
Mi 3i 10000 mAh Power Bank (Fast Charging, 18W) (Black, Lithium Polymer)

remove

realme 10000 mAh Power Bank (18 W, Fast Charging) (Grey, Lithium Polymer)

remove

Fire-Boltt Ninja Call 2 Plus with 1.83-inch display Bluetooth Calling with 27 Sports Modes Smartwatch (Black Strap, Free Size)

remove

Image
SKU
Rating
Price
Stock

In Stock

In Stock

In Stock

Availability
In Stock
In Stock
In Stock
Add to cart
Description

Port- Type C and micro usb
Cable- micro usb
Recharging time- 4 hours (with 18 W charger and USB cable)
Weight: 251 g | Capacity: 10000 mAh
Lithium Polymer Battery | Type-C Connector

Capacity: 10000 mAh
Lithium Polymer Battery | Micro, Type-C Connector
Power Source: AC Adapter
Charging Cable Included

1.83 inch Bluetooth Calling Full Touch Smartwatch with 240*284 px Resolution
Built In Mic and Speaker enables user to enjoy wireless calling experience
Stream & Listen To Favourite Songs Through The Watch with Built - In Speaker
360 Health Tracking - Featuring Real Time SpO2, Heart Rate Tracking, Sleep Monitoring

Content

Keep your devices well-charged at all time with this Mi power bank. While its dual USB input helps you charge two devices together, its smart power management lets you switch it to 2-hour low charging mode to charge low-power devices with ease.

Dual USB Output

Its improved design helps you charge two devices simultaneously.

Dual Input With Type-C

This power bank is easily chargeable via Type-C or micro USB port.

Two Way Fast Charging

It ensures fast charging of up to 18 W, so you can charge your devices or the power bank in a jiffy.

Powerful

Its thoughtful design with an aluminium alloy case not only makes it look stylish but also keeps it safe from collisions and impact.

Powerful

It is compatible with 9V/2A, 5V/2.1A and 12V/1.5 A charging, so you can use it to charge almost all types of devices with ease.

Smart Power Management

With its 2-hour low charging mode, you can charge low power devices, such as Mi wireless earphones or Mi band efficiently. The low charging mode can be activated by double pressing the power button.

12-Layer Circuit Protection

It features a 12-layer protective design that keeps your devices safe from overheating or other electrical hazards.

Don't panic and rush to find a plug point if you're low on charge. This 10,000 mAh powerbank from Realme will have your back with its premium features. It features a Type-C port with simultaneous fast-charging, Power Delivery mode to help you charge your laptop, an intelligent low-power mode which you can use to charge smart wearables, and lots more.

18 W Two-way Fast Charge

Thanks to the Type-C port in this powerbank, you can fast-charge your phone while simultaneously fast-charging your powerbank.

Power Delivery Compatible

The Power Delivery feature in this Realme powerbank lets you charge your laptops. The intelligent low-power mode mode helps you charge wearable devices like smartwatches.

Dual Output

This powerbank has been designed in such a way that both the ports - USB type-A and USB type-C can provide you with the power to charge two devices at the same time.

High-density Battery

Powered by a 10,000 mAh high-density lithium polymer battery, this powerbank can retain up to 100% of its full capacity even after 500 recharge cycles are completed.

Security

You can use this Realme powerbank without worrying about safety as it is equipped with 12 layers of protection.

Fire-Boltt Ninja Call 2 has the Industry's Largest Square Display of 1.83" Full Touch and HD TFT Screen. This watch is your ALL IN ONE companion with Spo2, HR, steps, calorie, sleep monitoring and counting features. Keep a close track and watch on the Blood Oxygen Levels (SpO2) as well as Continuous Heart Rate Tracking. This Fireboltt Ninja Call 2 is a show stopper and has 27 well known sports modes. This watch comes with stonger battery backup where you need not worry to charge!

Weight
Dimensions
N/A
N/A
N/A
Additional information